Glassfibre Reinforced Polyester (GRP) panel tanks
The GRP panel tanks are series of modular panels bolted together on site to give an infinite range of sizes and capacities. They are particularly functional in confined spaces, and can be easily transported to remote areas, conveniently packed and erected simply under skilled supervision.
It is a lightweight, extremely strong, and robust material. GRP's bulk strength and weight properties are very favourable when compared to traditional metal alternatives GRP material is used for its high mechanical strength, light weight, corrosion and temperature-resistant properties, smooth internal surface, ease of repair and its cost-effectiveness.
·        They are non-welded solutions that do not corrode

·        They are uniformly smooth and prevent buildup of dirt on its surface

·        Discourages the growth of algae and fungi by blocking light transmission

·        Low maintenance, long lasting and highly cost effective

·        Excellent quality of stored water

·        Uniformity of panel dimensions

·        Easy to increase or decrease the size as per need

 

 

 
They serve the needs of private residences, residential complexes, hospitals, food and beverages factories, and offices as well as oil and gas industries, rural, urban and irrigation projects where large scale water is required.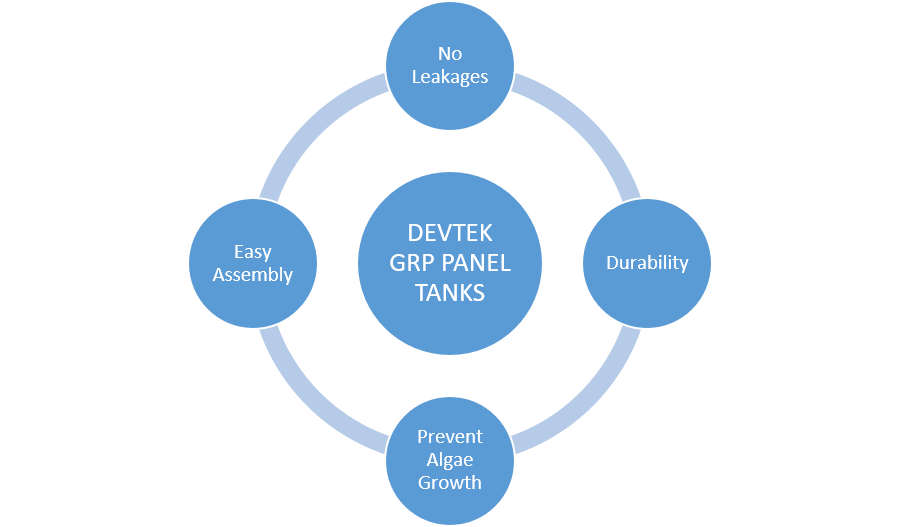 Materials of Construction
Materials needed in the production of the Aquadev GRP panel tanks are rigorously tested for portable water compatibility. Some of the tests include long term material performance and mechanical properties, non-metabolic components, adhesives and so on. These analyses form the basis of the company's extensive QC procedures.
| | | |
| --- | --- | --- |
|   | Components | Materials |
| Panel | GRP panel | Glassfibre Reinforced Plastic/Polymer |
| Joints | Sealant | Foam or Synthetic rubber |
|   | Bolts & Nuts | HDG or Stainless Steel (SUS) |
| Reinforcement | Roof Support | uP.V.C |
|   | Internal Tie Rods | Stainless Steel (SUS) |
|   | External Bracings | HDG Steel |
|   | Corner Angle | HDG Steel |
| Support | Skids | HDG Steel/Painted Steel |
| Accessories | Manhole Covers | Glassfibre Reinforced Polyester |
|   | Ladder | Internal-uP.V.C/Aluminum |
|   |   | External-HDG steel/Stainless Steel (SUS) |
|   | Air Vent | uP.V.C |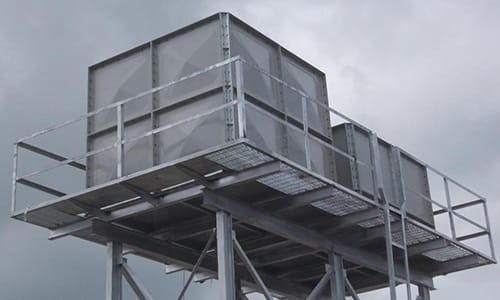 Do you want this product? Contact us now